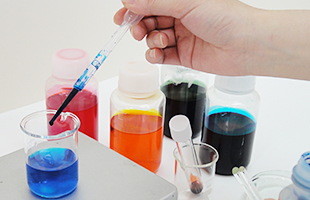 Inkjet Inks
Inkjet printing is a technology which is non-contact on to the object and prints
minute ink droplets directly.
Non-contact printing enables many print media to be printed.
Our inkjet ink has achieved high reputation by the quality.
1-Edible inkjet ink
This is a food additive ink printed directly on food or pharmaceutical tablet surface by inkjet printing.
Use raw materials only described in the food additive standard.
Usage recommendation : company logo, novelty goods, gift etc
We have established 「edible ink laboratory」 in our Osaka office doing printing test on verious foods.
We are welcome you to visit our laboratory.
2-Texitile pigment ink
Our high quality ink has advantage of both good color producing properties and stable quality.
If you are looking for high quality inks, feel free to contact us.